1200 Fig With 648 High End Condos Reveal Today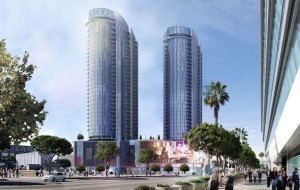 648 condos in the twin 35 story towers will sit above eight stories of retail, parking and electronic signage in place of the two huge surface parking lots that face Staples Center now.
The condos will range in size from 750 square feet to over 4,000.  A hotel may also be part of the project and contain even more Los Angeles net leased retail in addition to the 50,000 square feet of street level, sport themed retail for lease.
Harley Devereaux is heading up the design work for this huge project.  I frankly don't know if 1200 Fig will end as the name of the project, but that's what is on the renderings.
And speaking of renderings, this looks impressive: