Dublin Ohio – Bridge Street Redevelopment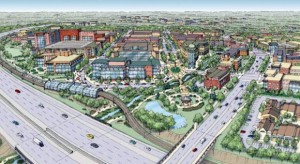 I did a short post on the Dublin, Ohio, Bridge Street development a couple of weeks ago.  I've since located much more detail regarding the long term development, which is at the link thanks to Walker Evans of the Columbus Underground blog.
The development will bordered by I-270 on the north and west and State Route 161 (Bridge Street) on the south and Sawmill Road on the east.   This is a massive 1,000 + acre development that will take decades to build out.  Planned is office, retail and approximately 8,000 residential units.  Urban density is projected to be in the range of 8,000 residents per square mile.  The only area in the Columbus area that's denser is the area adjacent and east of Ohio State University.  That wasn't meant as a pun, by the way.  That area is 10,500 people per square mile.
My question is where on earth are they going to get all the people for this and all the other large projects in Columbus?  Anyway, at the link is much more detail.
Columbus Underground Blog – Dublin Grows Up – the Bridge Street Corridor Plans For Urban Development